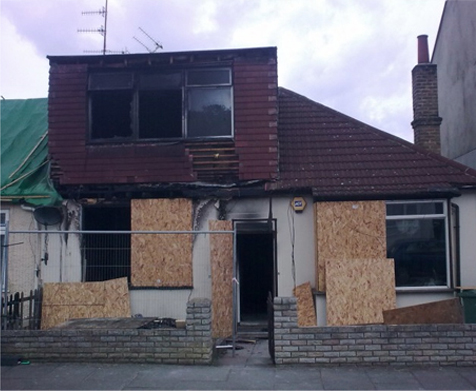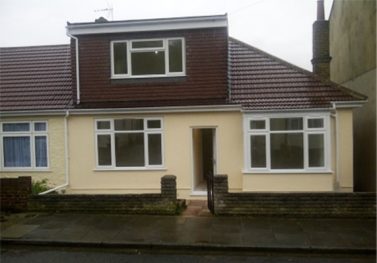 An electrical fire in a downstairs bedroom completely gutted a small rented bungalow in London. The damage also spread to the next-door bungalow's roof. Bedfords Surveyors were recommended to the owner by its loss assessor as specialists in insurance reinstatements and were appointed to carry out the full refurbishment project.
After securing the premises and surveying the damage, Bedfords Surveyors decided that the building appeared unstable ; Bedfords Surveyors engaged the services of a structural engineer to assist with the reinstatement.
Bedfords Surveyors worked in conjunction with an approved consultant who undertook the role of building control throughout the project. The bungalow had previously been extended into the roof space but this extension had not been carried out to modern building standards. Therefore, as part of the reinstatement, Bedfords Surveyors designed a new roof structure to meet current building regulations. They also undertook a full internal spatial audit and redesigned the property to maximise the space available.
As well as the reinstatement works undertaken, the project comprised a complete reinstatement of every aspect of the property including new electrical, plumbing and heating systems, and a new kitchen. The result was a stable and modern property with better use of the space available.
Bedfords Surveyors oversaw the building contractors throughout the project, and monitored and administered the contract through to completion.
< Back to Case Studies